award winning wings & sauces

The Dirty Buffalo Is Looking For Franchisees In Hampton Roads Virginia. Apply To Be A Part Of Our Herd!

food, friends & family

Buffalo-Style Chicken Wings and
Family Sports Bar
Franchise Opportunity
in Hampton Roads Virginia

legendary service

Join the Herd! The Dirty Buffalo Restaurant Franchise Opportunity in Hampton Roads Virginia
The Dirty Buffalo Franchising
WHY INVEST?
At The Dirty Buffalo® we like to say that "We're More Than Just a Wing Joint.℠" Sure, we have served millions of our delicious, award-winning wings since we opened our doors in 2012—originally as a quick-service restaurant and later as we expanded to two full-service restaurants in Norfolk, Virginia. We also think we've perfected the method for preparing authentic Buffalo-style chicken wings so they come out fast, fresh and consistently crispy every time. And we offer over 30 unique, proprietary sauces and rubs. Yes, we do all that, but what is most important to us at The Dirty Buffalo® are three things: Food, Friends and Family.
When we started The Dirty Buffalo® in 2012 we were just a couple of Western New York transplants looking for a restaurant where we could enjoy a true "City of Good Neighbors" type of experience. We searched the southeastern Virginia area for a place with good wings and a friendly, laid-back atmosphere that reminded us of home, but unfortunately we couldn't find one. So we decided to open our own buffalo wing franchise.
Originally, the wings were going to be the focal point of our menu. But, we also wanted to introduce outsiders to other iconic Western New York fare like the "Dirty Plate." The Dirty Plate is a combination platter consisting of a protein (like pulled pork, steak, burgers, hot dogs, or chicken tenders) piled right on top of two homestyle sides and covered in a savory sauce. It's a Rochester New York staple and it turns out that everyone else loves it too! People flock to The Dirty Buffalo® for our signature plate, the Dirty Chick®, which has been featured on two separate national TV shows! It's two chicken tenders coated in sauce served over our famous mac 'n cheese and crispy home-fried potatoes.
That's right: at The Dirty Buffalo® we serve simple American favorites, but in a unique and unexpected way. By paying attention to the tiniest of details and providing legendary service to our guests, we've built a brand that is one of the fastest growing business in the Hampton Roads area. And we'd love to bring our small business franchise to your hometown as well.
The Heart of a Buffalo
our values
Legendary service
Our goal is to provide such unique and genuine personal care and attention that our guests tell stories about us.
Attention to detail
We believe that good isn't good enough. We never stop trying to do it better, no matter how good we are.
Honesty
We recognize that honesty and trust form the bond that holds organizations and relationships together.
Cleanliness
With a name like The Dirty Buffalo®, false impressions can arise before a guest even walks in the door. We constantly strive to keep this perception from becoming a reality by impressing our guests with a well-lit, meticulously clean and effectively organized restaurant at all times.
Personal accountability
We do what we say we are going to do when we say we are going to do it.
Sense of community
We pay homage to our namesake – the City of Buffalo – which is also nicknamed the "City of Good Neighbors." We strive to bring the sense of community that Western New York is known for to our guests wherever they may reside.
Diversity
We believe that a diverse workforce and customer base is a hallmark of success. We constantly strive to maintain a relaxed atmosphere free from any judgment or pretention in order to be inclusive of staff and guests of every race, ethnicity, national origin, age, gender, gender identity, religion, disability, sexual orientation, socioeconomic status, marital status, education level and income level.
Teamwork
We believe our continued success depends on teamwork. We know that great achievements are only possible by helping and respecting each other.
Three-Time 1st Place Winner at The National Buffalo Wing Festival '18
Cajun Buffalo - 1st Place Creative BBQ

Sweet Sriracha - 1st Place Creative Sweet

The Rookie of the Year Award (2018 National Buffalo Wing Festival)

Featured on two national television shows, Food Network's Diner's Drive-ins and Dives (2017) and Travel Channel's Food Paradise (2018)

Voted "Best Wings" in Virginian Pilot's Best of Reader's Choice competition for five years running.

Honored as one of 20 fastest growing businesses in Hampton Roads region (2017)

Received Entrepreneurial Excellence from Inside Business Magazine (honoring local entrepreneurs who have been able to successfully establish unique businesses in the Hampton Roads area) (2018)

Won Hampton Roads' Small Business of the Year in 2019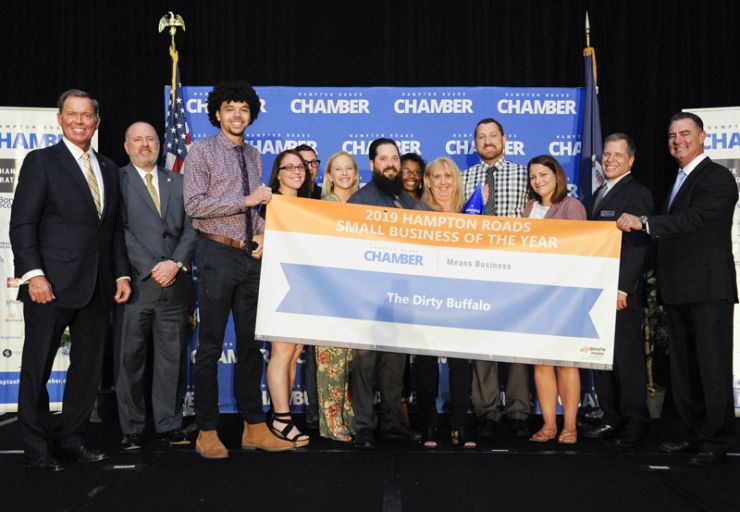 Interested in joining our team?
Get started below!